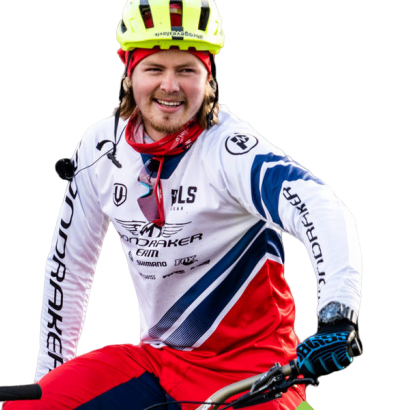 Downhill MTB
Brage Vestavik
I love Fit4Racing, I'm stronger and fitter than ever.
Spending less time in the gym means I can ride more.
My passion is riding, Fit4Racing gives me the best training around in such a short time I can ride more than ever and still improve my fitness.
Tailored off road bike training from Fit4Racing
Our training programs are designed to maximise your riding with minimal time in the gym. You can trust us - as the pro's do - to deliver your flexible weekly training that you can fit around your lifestyle. Don't get fat this off season, join now and make the most of your time off the bike!
The Program
Downhill MTB
We call it 'bang-for-buck' training – getting more benefit in the saddle from less time in the gym – because we know you'd rather be out on your bike than working out. That's why our training plan fits around your abilities and lifestyle, to get the most out of the time you're not on your bike to make you a better rider on it. So there's no excuse…it's your time, make it count.
Got a question?
We're here to help
Still not sure or training is for you? You'll find various workouts and testing you can try out for free – we don't specify a minimum period on the program, and you can cancel any time, hassle-free. We're with you all the way too, so if you have any questions just get in touch and we'll be here to help.
Support